A breed dedicated to profitability
The Montbeliarde is:
+24 € margin / 1.000 L of milk 1
+30 €/ 1.000 L of meat product 2
+10 €/1.000L of milk price ²
-24 €/ LU (livestock unit) in vet costs 1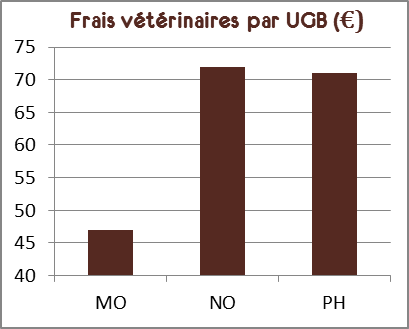 1 Comparison from gross margin results CER France Mayenne-Sarthe, 2011 : with Montbeliarde cows, the gross margin is 11% higher than with Holstein (249€ for 225€ for 1.000 L of milk). Veterinarian costs are 71€/LU (case of Holstein and Normandy herds) against 47€/LU (Montbeliard livestock).
² Comparison from Clasel data, 2012-2013 (Mayenne and Sarthe departments): a Montbeliarde livestock gives a superior meat product of 30€/1000L in average, compared to a Holstein breed livestock. The milk price is also higher by 10€/1.000L.
The Montbeliarde breeders present their figures :
GAEC de Bellevue (02)
+59€/1000L gross margin thanks to the content and sanitary quality (milk product)
EARL Léridon (49)
+71€/1000L gross margin thanks to longevity (animal product)
EARL des 4 Vents (42)
+49€/1000L gross margin thanks to culled cows value (meat product)
SCEA Elevage Fridez (90)
+35€/1.000 L gross margin thanks to bull calves value (meat product)