Producing veal calves
Males can be intended to meat production as veal calves. Pure breed calves are usually 130kg on average at 5 months old. Their good feed efficiency (see graphics below) enables to reduce the fattening duration (13 days less comparing to a Holstein calf).
Veal calves: carcass gain*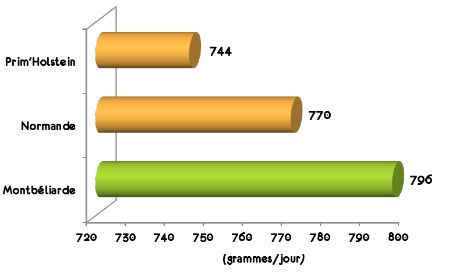 *The daily carcass gain is equivalent to the ratio between the carcass weight and the slaughter age, which translates into a theoretical average carcass gain on the animal's whole life.
The Montbeliarde is excellent crossbreeding material due to its diversity and obvious ease to calving. In the South of Auvergne, more than one cow is inseminated with a meat breed bull and produces calves with very increased value in the local industry. Cross-breeding with a Charolais bull is first (61%), far ahead of Limousin (20%) and Belgian Blue (11%).
Industrial crossbreeding market share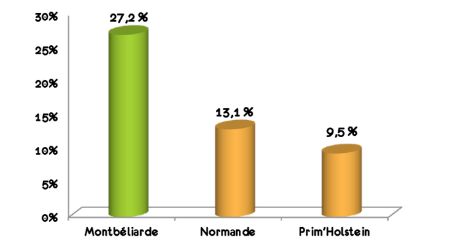 Sources : Normabev – IDELE – Rencontres Recherches Ruminants, 2013